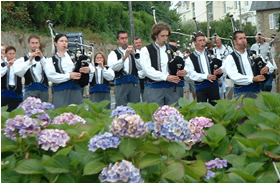 The charms of High Léon: Between the green landscapes of the country with the rich agriculture and the changeable colours of the sea you will be amazed throughout your stay.
Roscoff : It is the pleasant port which collects the fishermen, the sailors and the users of Ferry which joins Great Britain and Ireland. We can make for it numerous discoveries:

- The exotic Garden: A quiet and surprising place of more than 2000 sorts of plants, resulting from the southern hemisphere, are collected around an impressive cliff.

- Museum of Johnnies: This museum tells the history of johnnies, the lads of Léon who during 150 years were going to sell onions with their bicycle in Great Britain by embarking on schooners.

-The Island of Batz: An island near from Roscoff that everybody can discover by taking boats.

- Roscoff's casino: which will make you past a pleasant moment of games.

Morlaix:this charming city has kept all the tracks of the period when its business was prosperous. You can walk in alleys to discover houses to half-timbering, or to observe the viaduct of the XIX-th century which crosses above the city.

The enclos paroissiaux :there is a whole circuit where you will be able to discover the work of artists and local artisans who built among the XIV-th and XVIII-th century his buildings around churches with a particular care brought to details and to statues. A triumphant door, a Calvary, ossuaire and forward chapels compose the enclosure around the church.

The Monts d'Arrée : The hinterland stays one of the wildest and virgin landscape of Brittany. Arrée's mountains, country of legends, austere and dry, adapt immense moors to the changeable colours: the white winter mist, the yellow of gorses in spring and the mallow of the heath in September. This set of hills constitutes the fleuron of Armorique's regional Natural reserve, the wild land of authentic Brittany.

Barnenez's tumulus: these stony constructions dating more than 6 000 years shelter dolmens, enigmatic witnesses of the megalithic time human work.

Kerjean's castle: built in the XVI ième century, this strengthened construction is situated in a park of 20 hectares wide. Exhibitions and shows are regularly organized there, they will allow you to discover ornamental elements of the revival, or the details(rooms) of Breton furniture.

Océanopolis : Come to discover one of the biggest aquariums of France which regroups a considerable number of maritime animals. Opened since 1990, it was a big success with 3.5 million guests. Since the spring, 2000, besides the moderate pavilion they built two new spaces: one reserved for polar world and the other one for tropical world.